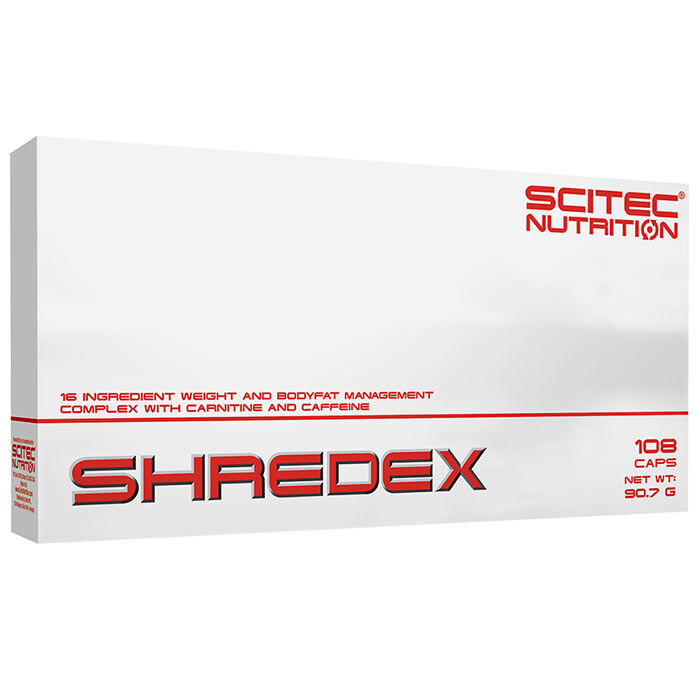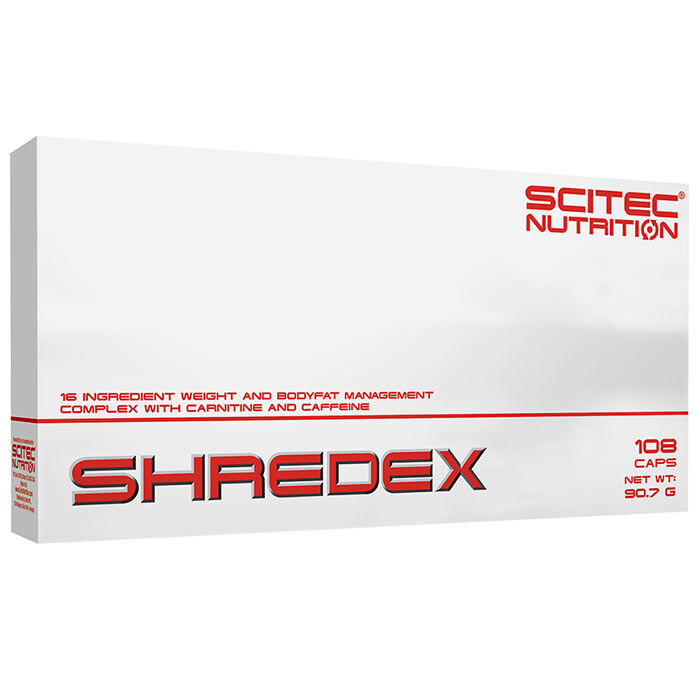 Shredex 108 Caps Fat Burners
Offer
Pick 2 FREE items at checkout for every £100 spent to a max of 6 items in total
Offer
Pick 4 FREE items when you spend £200+
Offer
Pick 6 FREE items when you spend £300+
Shredex 108 Caps
Product Guide
Contains 333mg of l-carnitine per serving
Caffeine anhydrous is a well known stimulant which improves focus and concentration
Added green tea extract promotes an increase in metabolism
Garcinia Cambogia helps to increase satiety, therefore reduce the feeling of hunger
Alpha-lipoic acid works in conjunction with l-carnitine to increase fatty acid oxidation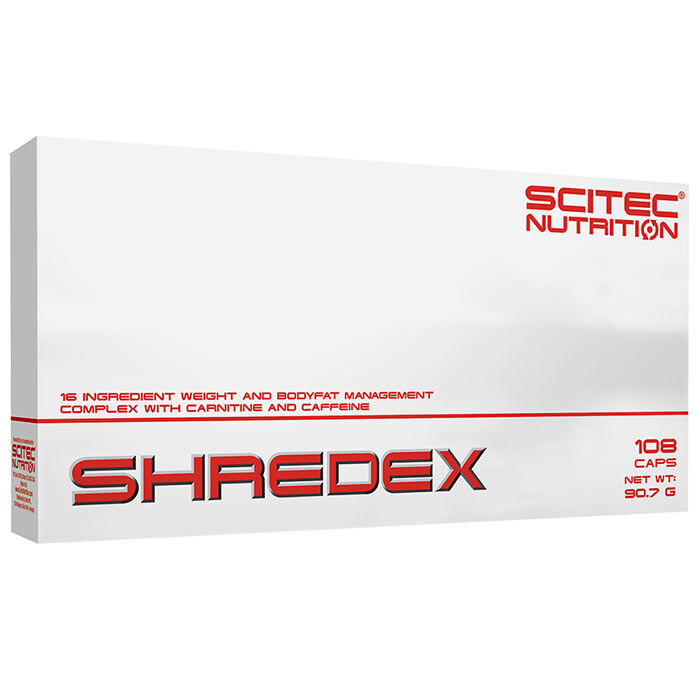 Scitec Nutrition Shredex is a fat burning formula which contains over 15 ingredients that have shown to promote fat loss when used in conjunction with a calorie deficit diet. It contains ingredients such as l-carnitine and alpha-lipoid acid that have shown to improve fatty acid oxidation by inhibiting the ageing process of mitochondria while ingredients such as garcinia cambogia increase satiety thus reducing the feelings of hunger throughout the day. With added caffeine, Shredex will increase alertness, wakefulness as well as improve your mood which will aid you in keeping you on track for achieving your fitness goals.
Shredex is most effective during cutting phases where one is in a calorie deficit diet as it will improve the bodies ability of reducing body fat. However, Shredex can also be used during bulking phases to inhibit excess gain of body fat and increase the amount of lean muscle gained. Shredex should not be used when consuming large amounts of coffee as the product itself already contains caffeine.
Shredex is suitable for anyone looking for an effective fat burning formula to aid them in their fat loss journey. Shredex is also beneficial for those in their contest prep readying to step on stage.
Ingredients
Scitec Nutrition Shredex 108 Caps
Directions
Its advised to begin usage with 1-2 caps 1 time daily to assess stimulant tolerance. Build up to a maximum of 2 capsules when taken at the same time. Cycle usage: 12 weeks on, at least 2 weeks off. Avoid any other sources of stimulants while on!