Cooking Spray Original
Product Guide
Less than 2 calories per serving
Helps prepare healthy and delicious food
Ideal for frying, baking & grilling
97% less calories per unit than butter, margarine or oil
Highest quality ingredients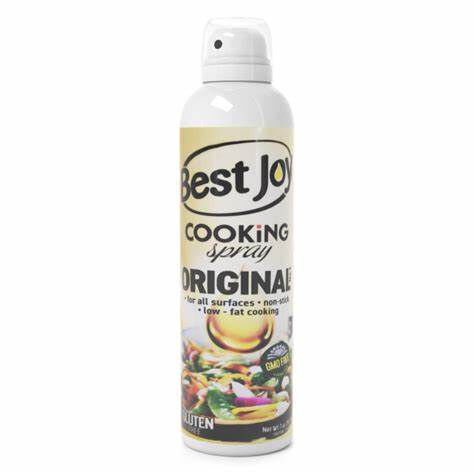 Use Best Joy Spray Oil because this no-calorie cooking spray is made from canola oil of the highest quality. Whilst fats are a delicious, they contain over 2 times more calories than proteins and carbohydrates. Use Best Joy Spray to be able to prepare your favourite meals without worrying about added fat and calories. Importantly, this oil spray is super efficient ‒ a minimal amount prevent food sticking to pans and burning of dishes.
Use Best Joy Cooking Spray for frying, baking and grilling your favourite foods whether for breakfast, lunch or dinner, this cooking spray is ideal for any meal preparation.
Best Joy Cooking Spray is ideal for anyone looking for a healthy way of cooking & preparing their foods using a tasty oil whilst maintaining their diet and not adding excess fat to their meals without lowering the quality and taste of your dishes!
Ingredients
Best Joy Cooking Spray Original