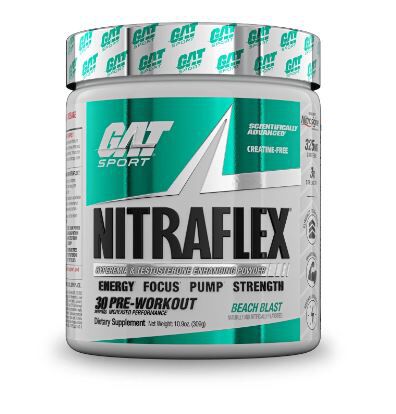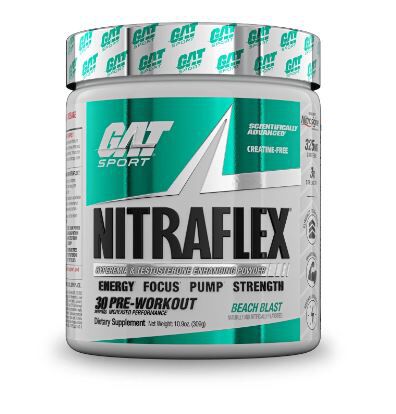 Nitraflex
Product Guide
Highly concentrated pre workout
Increase energy, strength, alertness and pumps in one formula
Helps to increase vascularity with vasoactive compounds
Boost testosterone levels whilst training
Contains 1.5g of beta-alanine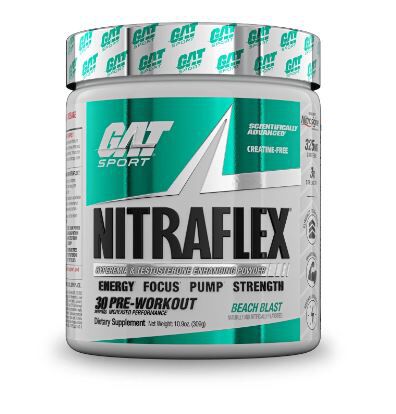 Nitraflex is a clinically tested and highly concentrated pre-workout formula that contains ingredients that will increase your energy, strength, stamina and pumps whilst training. And not only this, but the formula contains calcium fructopyranose borate which has been clinically shown to boost testosterone.
Nitraflex is best taken just before your workout (as a full scoop) to enhance the benefits of training. Due to the high caffeine content it shouldn't be taken within 5 hours of bedtime. Additionally, because of the testosterone boosting effects, this supplement can be taken on non-training days to enhance testosterone levels and keep hormone levels and energy levels boosted.
Due to the testosterone enhancing complex within Nitraflex, this pre-workout formula is particularly designed for male athletes in mind. The high caffeine content with beta-alanine and citrulline malate classes this pre-workout as a pretty strong potion and is not for beginner users of pre-workouts. Each serving of Nitraflex contains 325mg of caffeine so this pre-workout shouldn't be stacked with other caffeine containing compounds.
Directions
Begin by assessing your tolerance with half a serving of NITRAFLEX mixed with 5 oz of cold water. Consume within 30 minutes before working out. Depending on tolerance, mix 1 serving (1 scoop) of NITRAFLEX with 8-10 oz of cold water and consume within 30 minutes before working out. Do not take within 5 hours of bedtime.