Protein & Energy
Product Guide
20g of vegan protein per serving
Delicious smooth taste and texture
100mg of caffeine per serving for added energy
The perfect protein energy drink for that mid-day slump
No added colours, flavours or preservatives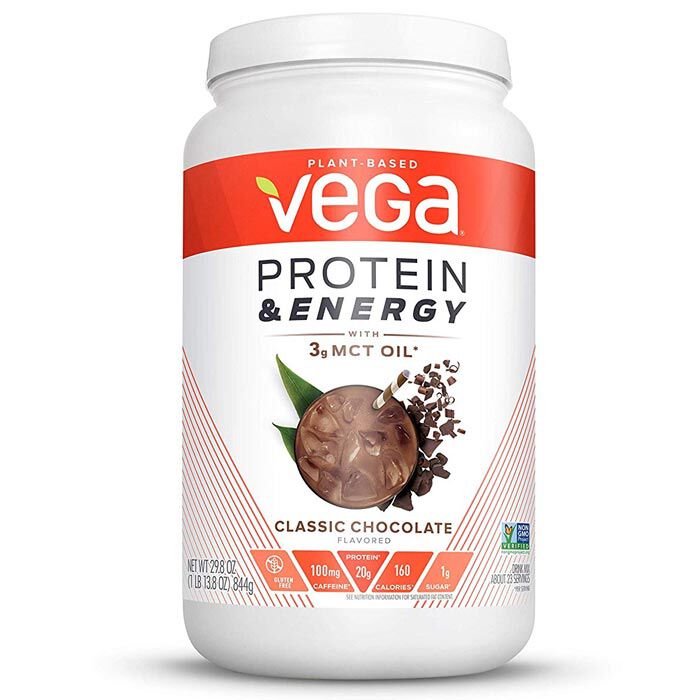 Vega Protein and Energy is a vegan protein drink with a caffeine boost! With 20g of vegan protein and 100mg of caffeine per serving, this drink can give you the energy boost you need if you are feeling the effects of a mid-day slump. This drink includes medium chain triglycerides (MCT) oil, these are fatty acids and are readily available in the body for bags full of energy. If you know that you have a long day of work ahead, maybe won't have enough time to get some lunch? Then you can pack your Vega protein and energy as the convenient way to top up your protein macronutrients and power you through your day.
Use instead of your regular protein powder to give you 20g of vegan protein plus a hit of caffeine to give you energy and focus throughout the day.
Anyone who wants additional energy with their protein, although we would suggest those that don't respond well to caffeine to consider a traditional protein powder. Vega Protein and Energy is perfect for the vegan/vegetarian dieter. It's low in calories and low in sugar, but high in protein and energy! If you struggle with keeping energised during the day and need to increase your protein intake then Vega Protein and Energy is for you.