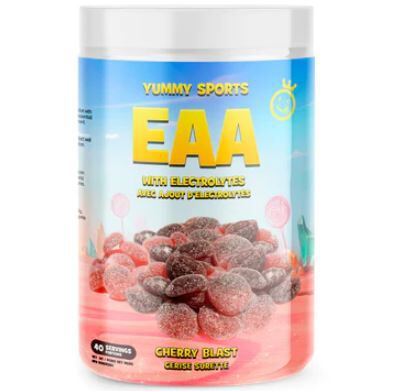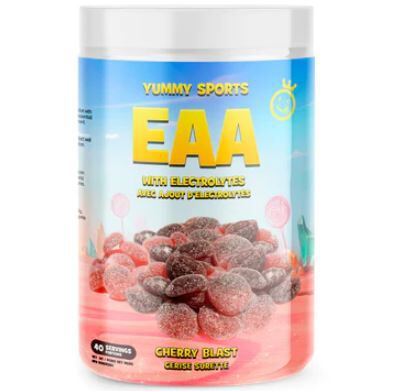 Yummy Sports EAA 40 Servings Cherry Blast BCAA & Essential Amino Acids
Offer
Pick 2 FREE items at checkout for every £100 spent to a max of 6 items in total
Offer
Pick 4 FREE items when you spend £200+
Offer
Pick 6 FREE items when you spend £300+
Yummy Sports EAA 40 Servings Cherry Blast
Product Guide
Electrolytes provide support to natural bodily functions
Available in five fruity flavours
40 servings per container
Sugar-free and gluten-free
Contains all nine essential amino acids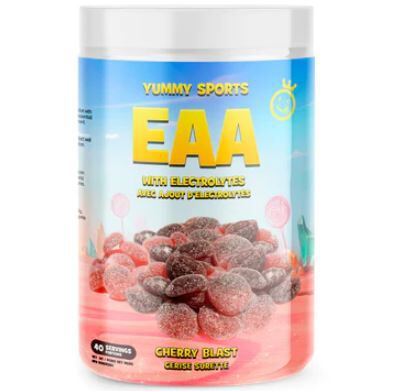 If you ever feel as though your body isn't running on all cylinders, and could do with a little assistance, a boost in electrolytes can help you out. There is a complete Essential Amino Acid profile in this formula, as we know, these are the amino acids that your body can't self synthesise; consumption of them in your diet is vital.
This is an intra-workout supplement, to be consumed as you rest between circuits and machines to keep your minerals and fluids topped up. So, just before you're about to get started, get mixing!
Perhaps this would be mostly ideal to athletes who are slightly more injury prone or sensitive to fatigue and illness than others. Some of us just need a little more TLC. Also, if any of you have a particularly hectic lifestyle in general; consisting of lots of movement, lifting, early hours, etc.
Ingredients
Yummy Sports Yummy Sports EAA 40 Servings Cherry Blast
Directions
Directions: Add 1 scoop to 8oz (250mL) of cold water, shake well & enjoy!