Drink Sleep Grow 30 Servings Lemon Lime BCAA & Essential Amino Acids
Type
Postworkout: Recovery
Offer
Buy 1 Get 1 Half Price on selected 5% Nutrition products
Offer
Pick 2 FREE items at checkout for every £100 spent to a max of 6 items in total
Offer
Pick 4 FREE items when you spend £200+
Offer
Pick 6 FREE items when you spend £300+
Drink Sleep Grow 30 Servings Lemon Lime
Product Guide
Night-time recovery formula
Increased muscle protein synthesis
Lets you train harder by recovering faster
Comprehensive blend of BCAA's, EAA's and GH elevators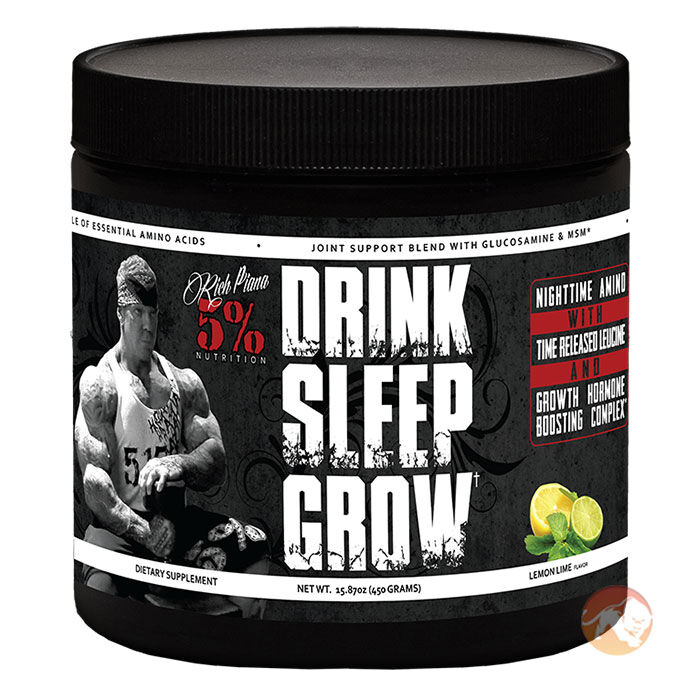 Drink Sleep Grow is a typical Rich Piana 5% Nutrition supplement with a packed out label comprising numerous forms of amino acids including a hefty 6g dose of bcaa's. In addition, it considers recovery from a holistic viewpoint by adding in a blend of joint repair ingredients as well as three nutrients which have been shown in research to elevate natural growth hormone levels. In short, Drink Sleep Grow ensures that your muscles, your mind and your joints will be recuperated to the max and with the bonus of better sleep quality and fat loss (via higher GH levels).
Drink Sleep Grow is the type of supplement which can be used daily, at night-time so long as one is exercising hard.
While Rich Piana himself may have been pretty extreme, this supplement is well dosed, and contains a comprehensive blend of effective ingredients that means even regular men and women who train would benefit from it immensely.
Ingredients
5% Rich Piana Drink Sleep Grow 30 Servings Lemon Lime
Directions
Take one scoop and mix with the desired amount of water (most would prefer around 250ml). Consume before bedtime every day.