Crea-TEN White 30 Servings Fruit Punch Creatine
Type
Natural Performance Enhancers
Offer
Save 50% on shipping when you spend £150 (UK is FREE over £50).
Crea-TEN White 30 Servings Fruit Punch
Product Guide
10 forms of creatine for maximum results
Uses a delivery system to drive increased creatine uptake without the need for carbs
Increased strength and power
Thousands of studies validate creatine's performance benefits
Crea-Ten can even enhance cognitive performance
Works best with other 5% Nutrition supplements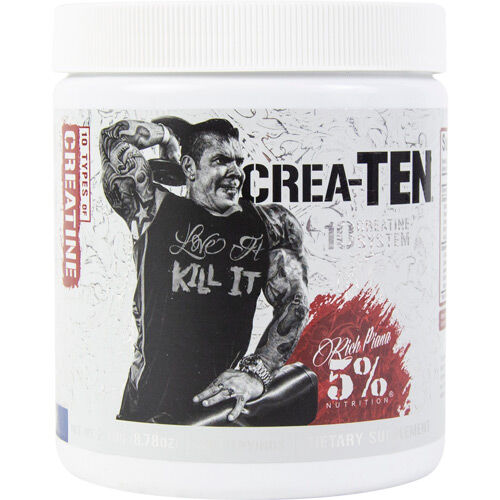 Crea-Ten works by using ten forms of creatine, the most researched supplement on the market spanning decades worth of research showing it can promote strength and power output and also increasing muscle size due to its cell volumising properties.
Crea-Ten is recommended to be consumed after your workout but for optimal results take a serving before and after training. Crea-Ten can be taken year round, indeed it should be for best results.
5% Nutrition Crea-TEN is suitable for athletes and bodybuilders who are looking for a Creatine blend that will help to increase strength and power.
Ingredients
5 Percent Rich Piana Crea-TEN White 30 Servings Fruit Punch
Directions
Consume (1) Serving Size scoop mixed with your favorite beverage of choice immediately after working out ONCE A DAY.