Creatine Anabolic
Product Guide
Cell Volumising Effects leads to rapid Mass Gains
The perfect Power Enhancer
Most research proven supplement on the market
Carbohydrates for Glycogen Replenishment and improve Creatine Absorption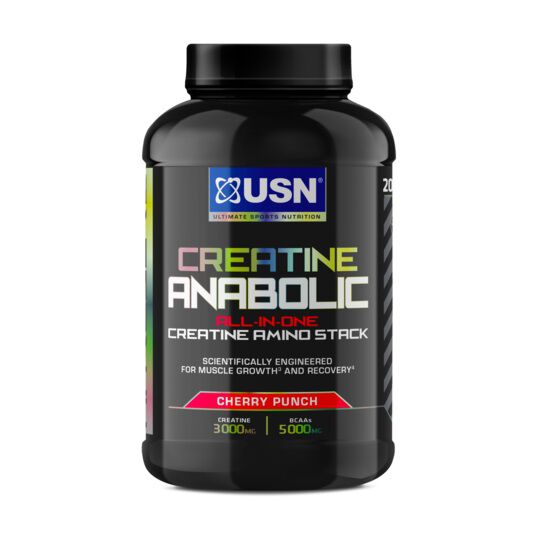 Creatine Anabolic combines creatine with a delivery system to maximise your ability to store creatine and take advantage of its unparalleled strength and mass building effects. Add in the combination of recovery enhancers included in Creatine Anabolic which enhance muscle repair and recovery, then Creatine Anabolic delivers a wide range of benefits, far more than a regular creatine supplement.
Creatine is best consumed in the period around training but on days that you do not train we recommend it in the morning which is when the muscles are most sensitive to insulin and thus helps ensure maximal delivery to your muscles.
Creatine Anabolic is suitable for athletes seeking improvements in performance, individuals seeking a way to get through plateaus in the gym and anyone seeking mass and strength gains.
Ingredients
USN Creatine Anabolic
Directions
Mix 2 scoops (60g) with 300-350ml water for a serving. For the first 5 days (loading phase): Take 1 serving three times daily, 1 in the morning when you wake up, 1 before your workout and the other immediately after. On non-training days, spread the 3 servings throughout the day. Maintenance phase (after 5 days): Take 1 serving daily, immediately prior to exercise, or on non-training days, after waking up. Servings may be halved, if required. Please note that the beneficial effect of creatine is obtained with a daily intake of at least 3g, and that it should be combined with high intensity exercise.