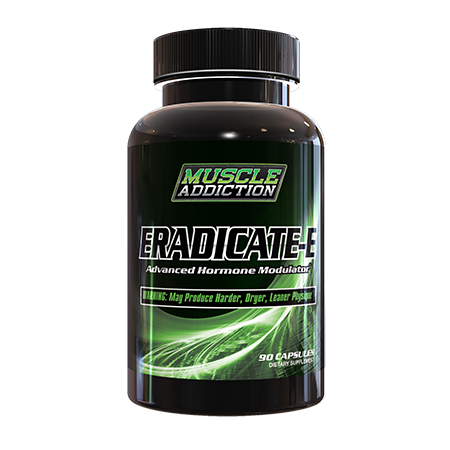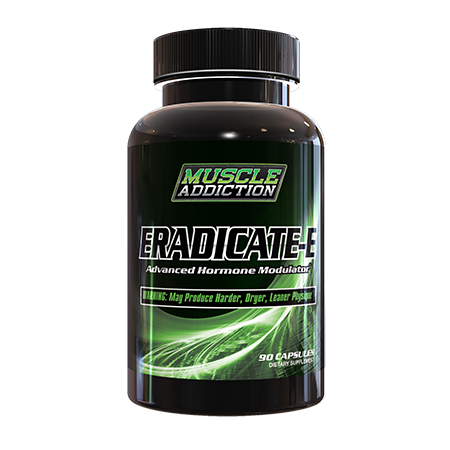 Eradicate-E 90 Capsules PCT Supplements
Type
Estrogen Blocker: Intermediate
Offer
Pick 2 FREE items at checkout for every £100 spent to a max of 6 items in total
Offer
Pick 4 FREE items when you spend £200+
Offer
Pick 6 FREE items when you spend £300+
Eradicate-E 90 Capsules
Product Guide
Improved body composition
Supports natural T levels
Versatile and can be used standalone and post cycle therapy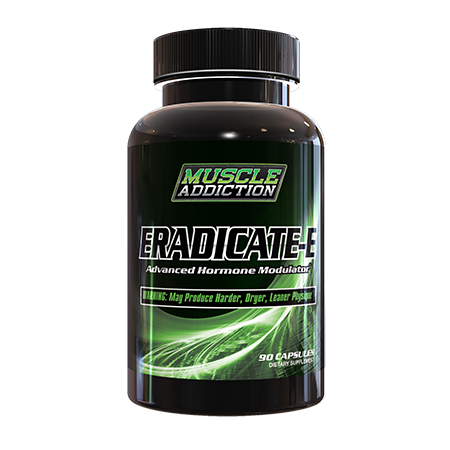 Eradicate-E provides the answer for those wanting that lean and dry, shredded, body look. The Muscle Addiction brand is well known for being non-nonsense in helping its users achieve excellent muscle building and physique results. Eradicate-E does this by boosting your natural testosterone as well as helping to decrease unwanted estrogen levels which might be impacting your desired physique, all in just one easy to use capsule.
Eradicate-E has a dual-function effect, as a standalone test booster/estrogen blocker for natural bodybuilders or else during PCT to help obtain homeostasis more quickly.
Eradicate-E is best suited to any male athletes and gym goers looking to boost their results for a shredded and lean body.
Ingredients
Muscle Addiction Eradicate-E 90 Capsules
Directions
To use as a dietary supplement, take 1 capsule up to 3 times a day with food. Do not use Eradicate-E for more than 6 weeks without at least a 4 week break between cycles.