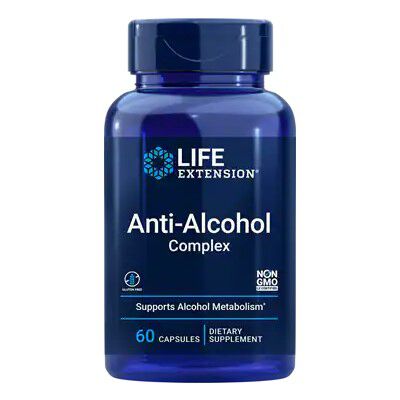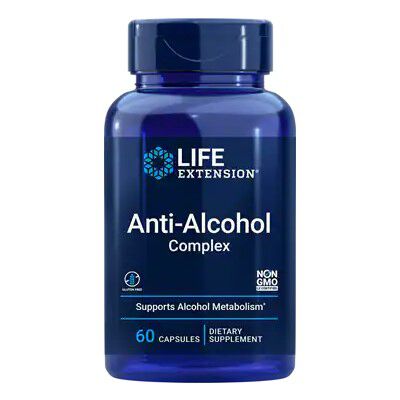 Anti-Alcohol Complex Liver Support Supplements
Type
Liver Support Supplements
Offer
Save 50% on shipping when you spend £150 (UK is FREE over £50).
Anti-Alcohol Complex
Product Guide
Supports healthy alcohol metabolism
Supports healthy liver function
Promotes healthy detoxification
Protect against alcohol metabolites & antioxidants protect cells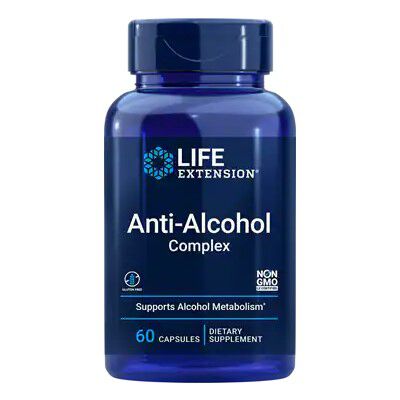 Use Life Extension Anti-Alcohol Complex to help support the protection of your liver from the negative impacts side-effects of drinking alcohol. Whilst many believe that the liver breaks down ingested ethanol and processes it, an acute intake or overdose can harm the liver through the formation of harmful free radicals or through toxic metabolites.<p>
Use Anti-Alcohol Complex from Life Extension when you want that extra support protecting your liver health from the negative health effect of alcohol consumption.<p>The pressures of modern living make it critical to maintain liver health and continuous exposure to oxidative stress can affect your energy-producing mitochondria. This Anti-Alcohol Complex provides a broad spectrum of nutrients designed to combat free radicals, neutralize alcohol metabolites such as acetaldehyde and support healthy liver function.
Ideal for anyone, male or female, who is looking to protect themselves from the negative effects of alcohol consumption. Whether that be someone planning a weekend or celebration with more alcohol than usual, or someone who drinks alcohol regularly on an evening with dinner.