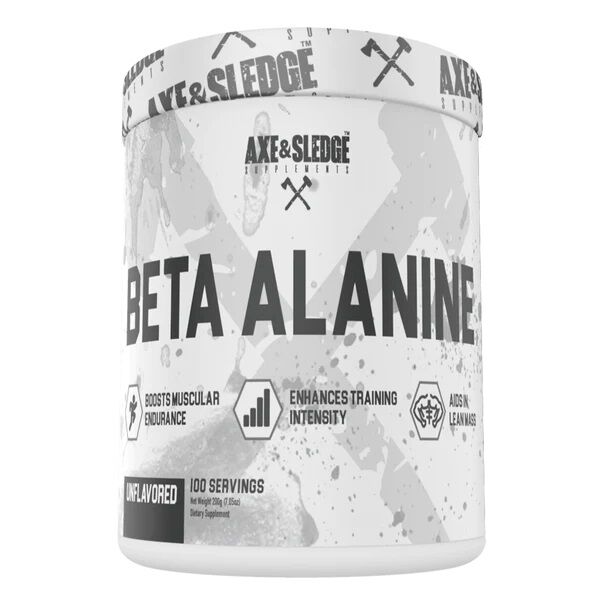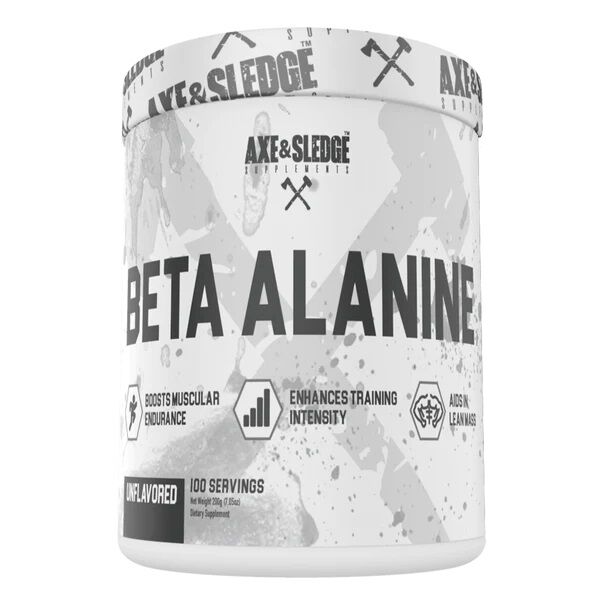 Axe & Sledge Beta Alanine 100 Servings Unflavoured Natural Performance Enhancers
Type
Natural Performance Enhancers
Offer
Buy 1 Get 1 Half Price
Offer
Spend £75 & get a Gift Pack with Greens+ trial,License Plate set,Mystery gift & Shaker
Offer
£100 to £600 orders get extra £105-£700 in free gifts. More spend = better free gifts.
Axe & Sledge Beta Alanine 100 Servings Unflavoured
Product Guide
Delay the onset of fatigue
Natural and safe for all athletes
Combat Lactic Acid to prolong exercise
Numerous scientific studies support its benefits for sportspeople
Great for people playing ball sports where minimal rest is available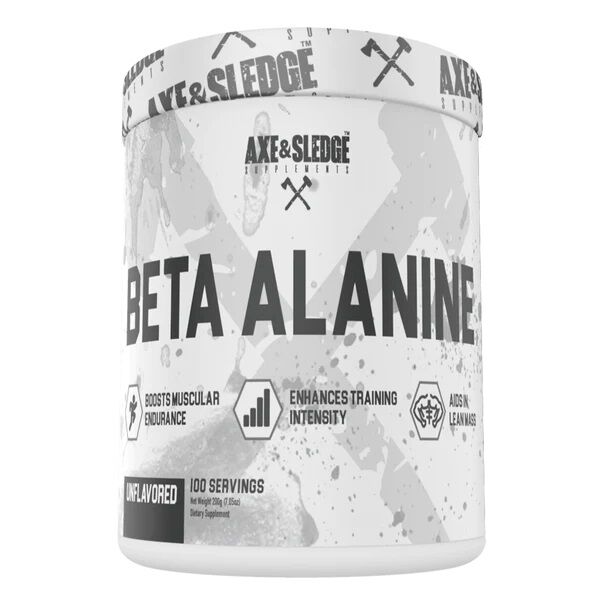 Beta Alanine is a compound that converts to carnosine, a molecule which has been shown to buffer lactic acid build-up on muscles thus giving you the ability to train harder and for longer. It is also an antioxidant and an anti-aging compound. Studies have shown that beta alanine supplementation can improve moderate to high intensity cardiovascular performance such as sprinting, rowing and jumping.
Beta Alanine is great to use through any periods of intense training and with any goal in mind.
Beta Alanine is suitable for anyone looking to improve physical performance in the gym no matter if you are a beginner in the gym or a professional athlete looking to gain an edge over your opponents. Since beta alanine is mostly abundant in meat products, it is highly recommended for vegans and vegetarians whom do not consume any meat based products.
Ingredients
Axe & Sledge Axe & Sledge Beta Alanine 100 Servings Unflavoured
Directions
AS A FOOD SUPPLEMENT, MIX 1 SCOOP WITH 6 TO 8 OZ. OF WATER OR YOUR FAVOURITE BEVERAGE. BETA-ALANINE CAN CREATE A TEMPORARY TINGLING SENSATION ON YOUR SKIN. THIS IS HARMLESS AND WILL DIMINISH OR COMPLETELY SUBSIDE. CAN BE TAKEN 2-4 TIMES DAILY.