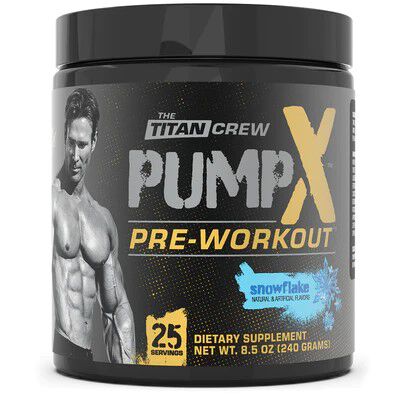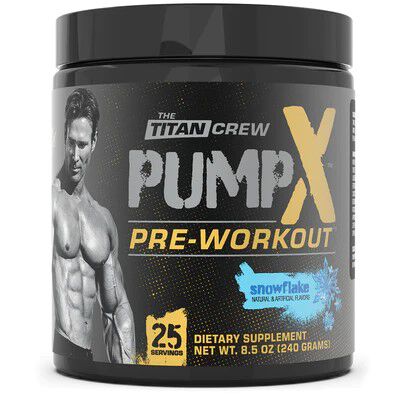 Titan Pump X 240g Snowflake Pre Workout
Goal
Muscle Pump/Vascularity
Offer
Buy 1 Get 1 FREE! Add 2 to cart.
Titan Pump X 240g Snowflake
Product Guide
Improved stamina and endurance
Optimal workout performance
Premium quality ingredients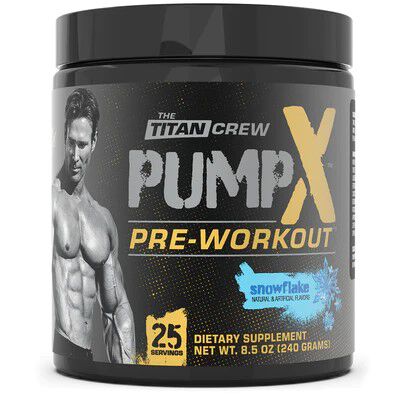 Use BPI Titan Crew Pump X Pre-Workout to elevate your workouts to new heights with its explosive energy, enhanced focus, and intense muscle pump. This pre-workout helps optimise your performance, improve stamina and endurance, and deliver optimal results. With premium quality ingredients this pre-workout is your key to unlocking peak performance and achieving your fitness goals. Don't settle for average; unleash your full potential with BPI Titan Crew Pump X Pre-Workout.
Incorporate BPI Titan Crew Pump X Pre-Workout into your training regimen when you need an extra boost of energy, focus, and performance enhancement. Whether you're tackling intense workouts, pushing through plateaus, or aiming for new personal bests, this pre-workout will support your goals. Take it 15-30 minutes before your training session to experience its powerful effects. Elevate your training to new levels with BPI Titan Crew Pump X Pre-Workout.
BPI Titan Crew Pump X Pre-Workout is best suited for individuals who are serious about their fitness journey and want to maximise their performance. Whether you're a dedicated athlete, weightlifter, or fitness enthusiast, this product is tailored to elevate your workouts and help you achieve your goals. It is ideal for those seeking an intense energy boost, enhanced focus, and improved endurance during intense training sessions.
Ingredients
BPI Sports Titan Pump X 240g Snowflake
Directions
Begin by assessing your tolerance. For your first few uses, mix 1 scoop with 6-8 ounces of water and consume 15-30 minutes before your workout. Once tolerance is assessed, you can increase to 2 scoops with 12-16 ounces of water. It is recommended to start with a lower dosage and gradually increase as needed. Do not exceed 2 scoops within a 24-hour period. Avoid taking the pre-workout too close to bedtime to prevent sleep disruption. Individual responses to pre-workout supplements may vary. It is essential to follow the instructions and listen to your body to find the optimal dosage for your needs.