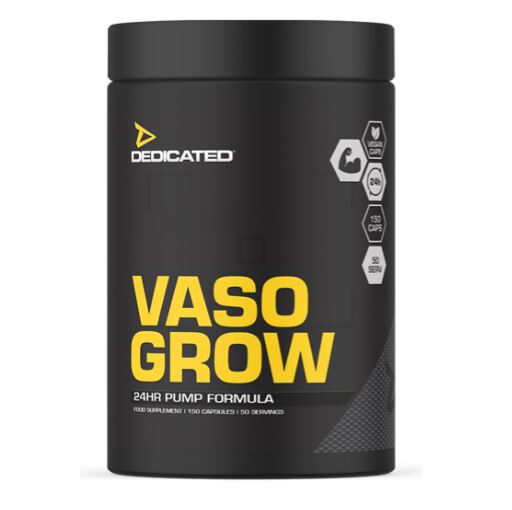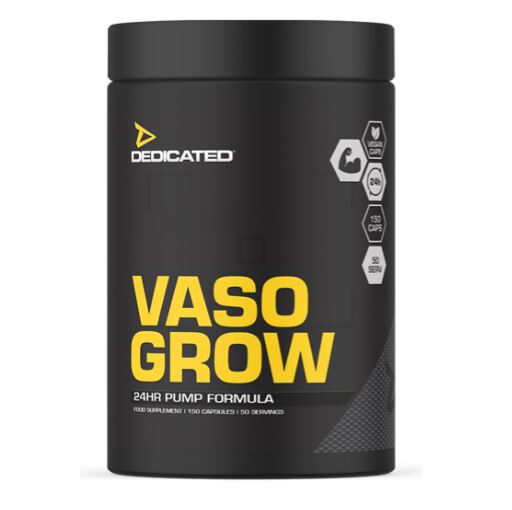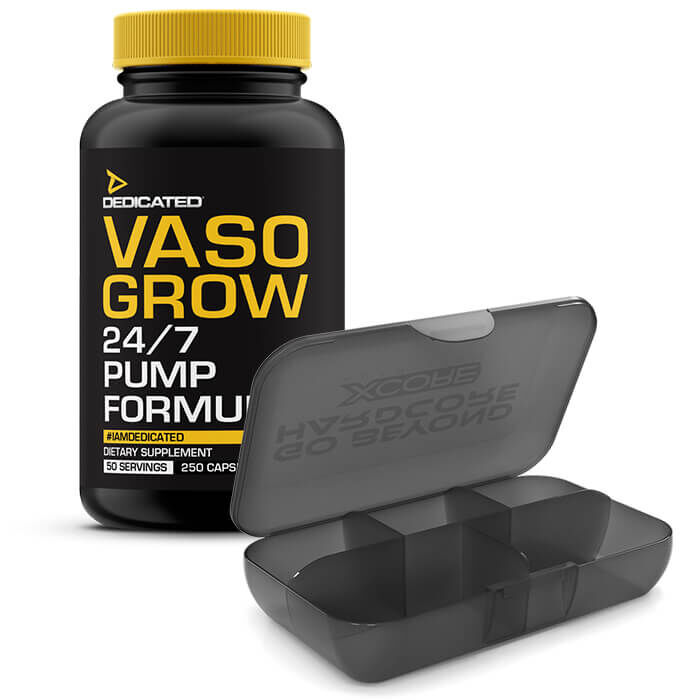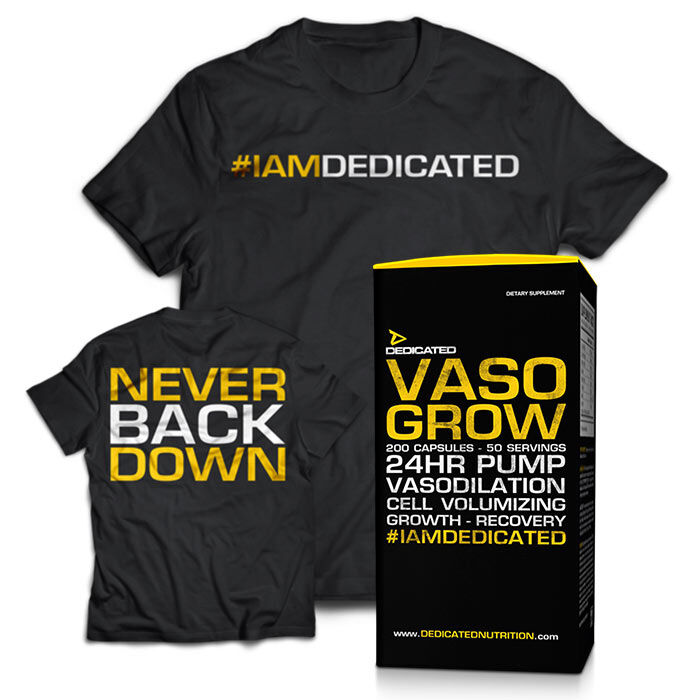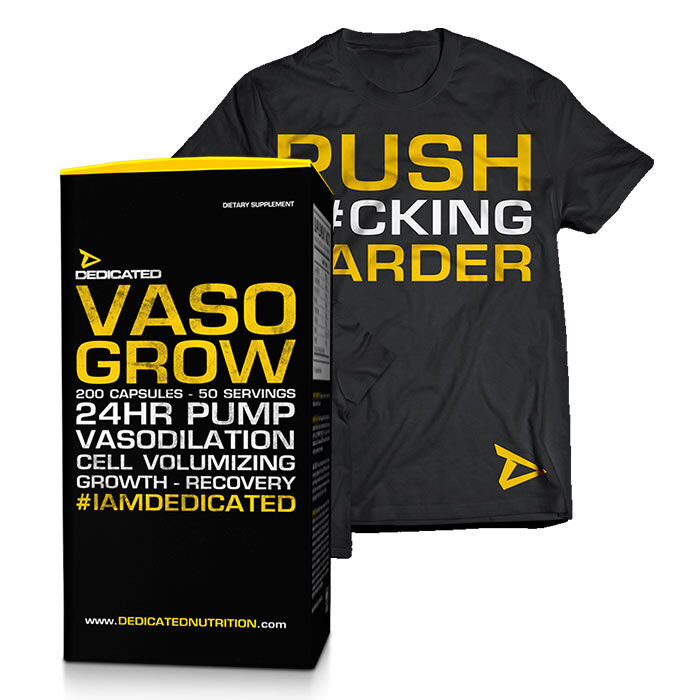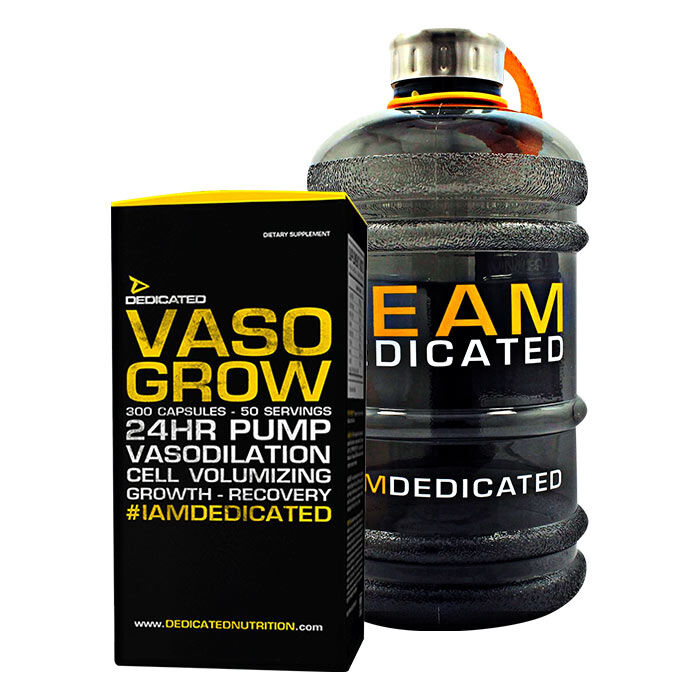 Vaso Grow 150 Capsules Pre-Workout
Goal
Muscle Pump/Vascularity
Offer
Save 50% on shipping when you spend £150 (UK is FREE over £50).
Vaso Grow 150 Capsules
Product Guide
Huge increases in muscle pumps during training and after
Improved nutrient delivery thanks to increased blood flow
Leucine keeps your body in an anabolic state
Includes anti-oxidants to improve nitric oxide production
Helps stretch the fascia around the muscle to increase muscle growth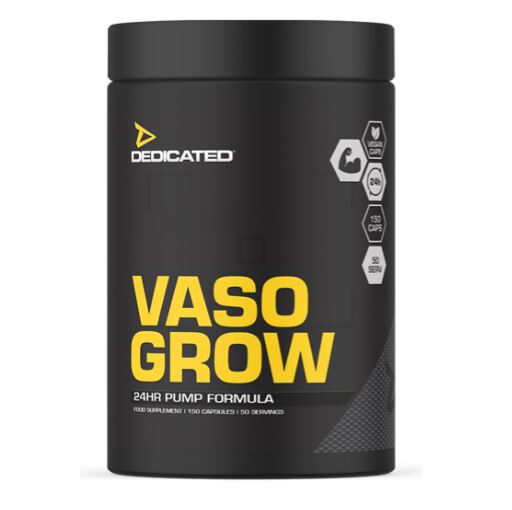 VasoGrow is one of the most well known supplements in the Dedicated range and not without good reason. VasoGrow is the highest dosed 24/7 nitrate based muscle builder available today. If you want to maximize your muscular growth it is of the utmost importance to keep your body in a constant muscle building state after your workout. Leucine is the primary trigger for stimulating muscle growth and thus increasing muscle mass. Leucine is rapidly absorbed by our bodies, a great plus but also drawback as it shortens the anabolic signal coming from leucine. Dedicated have added a nitrate to leucine to greatly enhance its effects as Leucine-Nitrate stays active for up to 10 hours. The joining of leucine and nitrate allows VasoGrow to lengthen the muscle building state from minutes to hours, even days!
Take Vaso Grow every day whether you are training or not to keep your body in ana anabolic state and force your muscles to grow.
VasoGrow is the perfect supplement for those looking to keep their bodies in a muscle building state constantly. VasoGrow also gives an insane muscle pump unlike any you've experienced before.
Ingredients
Dedicated Nutrition Vaso Grow 150 Capsules
Directions
Take 4 capsules before breakfast and 4 capsules 8 hours later on an empty stomach. Do not take with food.
SUGGESTED USE ON TRAINING DAYS
Take 4 capsules before breakfast and 4-8 capsules 60-90 minutes before workout or with your favourite pre-workout.
VASO GROW™ can be perfectly tailored to fit your goals and workout. Simply use 4 to 8 caps, 30-60 minutes before your training to instantly take your workout to the next level. Or use it two times per day to experience full blown muscle pumps that may last for days, not hours.