Clean Meal
Product Guide
Activate the anabolic switch
Supports muscle growth & recovery
Perfect for on-the-go nutrition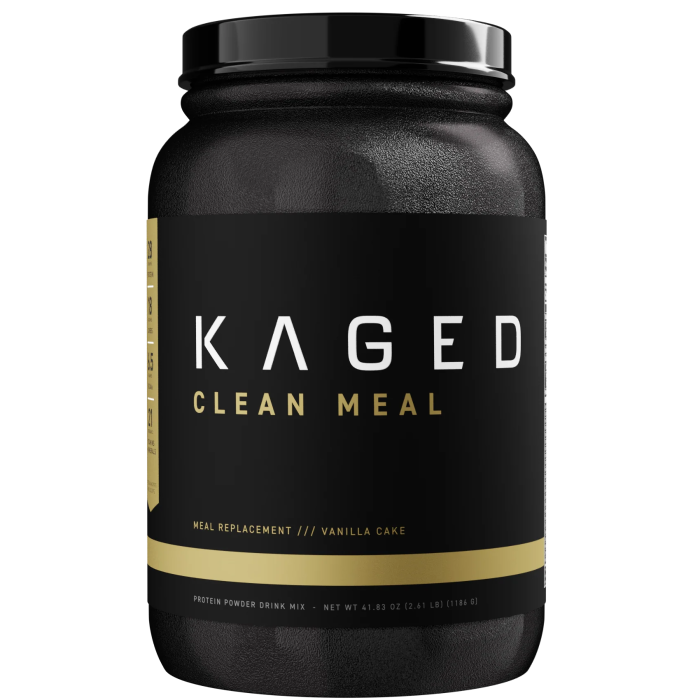 Use Kaged Muscle Clean Meal to elevate your nutrition to new heights. Offering a multitude of benefits, Kaged Muscle Clean Meal is a must-have for health-conscious individuals. With its superior ingredient profile, including high-quality protein, complex carbohydrates, and healthy fats, it supports muscle recovery, growth, and overall wellness. Whether you're aiming for weight loss, muscle gain, or simply seeking a convenient and nutritious meal replacement, Kaged Muscle Clean Meal provides the perfect solution to fuel your ambitions.
Incorporate Kaged Muscle Clean Meal into your training programme as a post-workout recovery shake to provide your muscles with the essential nutrients they need to repair and grow. It can also be used as a meal replacement during periods of weight loss or as a convenient and nutritious snack between meals. By using Kaged Muscle Clean Meal strategically in your training routine, you can enhance muscle recovery, fuel your workouts, and support your overall fitness goals.
Kaged Muscle Clean Meal is best suited to individuals who are committed to their fitness goals and seeking a convenient and nutritious meal replacement option. Whether you're an athlete looking to enhance muscle recovery and growth, a fitness enthusiast aiming for weight management, or someone simply seeking a balanced diet, this product is designed to meet your needs. With its superior ingredients and versatile nature, Kaged Muscle Clean Meal is ideal for those dedicated to optimising their nutrition and achieving peak performance.