Muscle Matrix 907g
Product Guide
A protein with full label/ingredient disclosure
25 grams of complete, high quality protein derived from whey protein isolate and micellar casein
Cold processed, Cross flow micro and ultra-filtered non-denatured whey
Low in net carbs, lactose, fat, cholesterol, and gluten and BSE/TSE free
Developed in Nutrabio's our own GMP certified and FDA inspected facility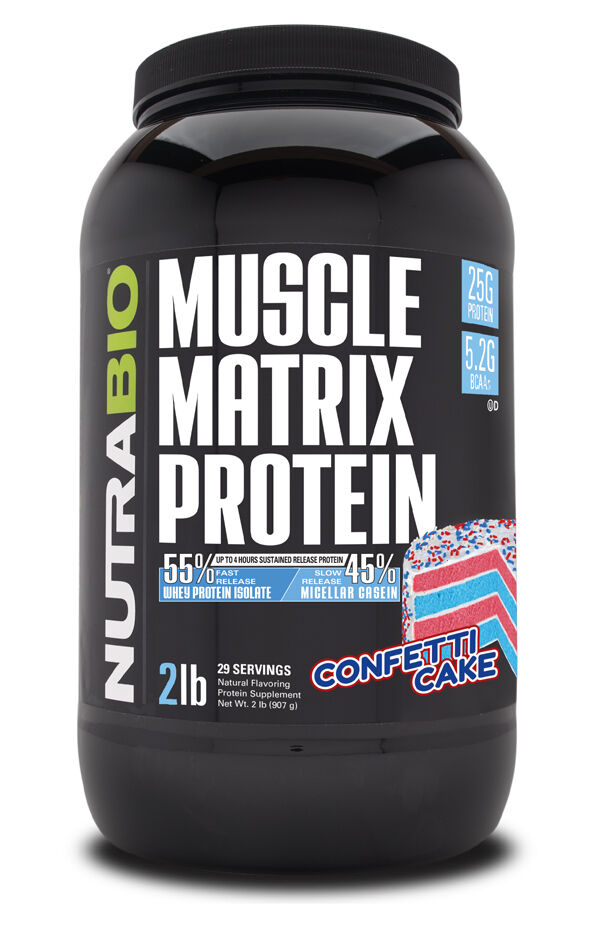 Whey isolate ingestion leads to a rapid spike in amino acids levels which increases muscle protein synthesis more than micellar casein. On the other hand, micellar casein tends to have a more anticatabolic effect than whey isolates and prolongs muscle protein synthesis to a greater extent. The combination of the two means greater increases in lean muscle mass and shorter recovery times compared to when ingested separately.
Muscle Matrix should be taken at nighttime (right before sleep) and within 20 minutes after workouts to help provide sustained amino acid delivery during the two most crucial times of muscle growth: during sleep and post-training.
Muscle Matrix is ideal for those who want the best of both worlds from their protein. The purity, low carb/fat and easy digestion of an isolate, alongside the sustained supply amino amino acids and texture of a casein. It doesn't matter how far along your fitness journey you are, Muscle Matrix is a tasty and easy way for you to meet your daily protein requirements.