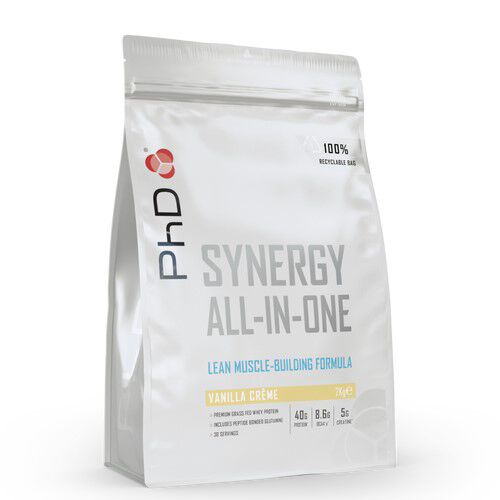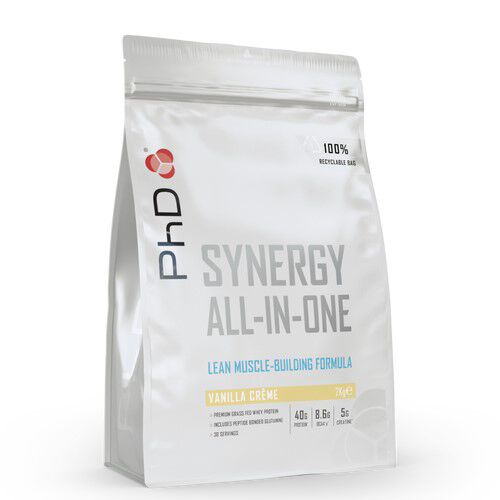 Synergy All-In-One 2kg Vanilla Protein Powder
Offer
Pick 2 FREE items at checkout for every £100 spent to a max of 6 items in total
Synergy All-In-One 2kg Vanilla
Product Guide
38g of Protein per Serving (flavour dependent)
Perfect lean muscle rebuild drink
Added peptide bonded leucine, creatine and bioperine
Premium grass-fed whey protein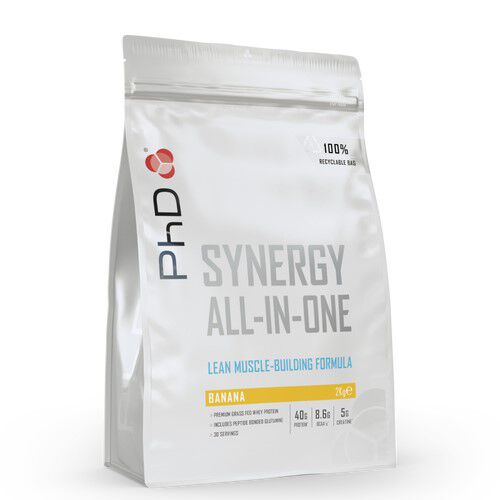 PhD Synergy All-In-One is a lean, all in one, post-workout shake. 'All-In-One' refers to PhD Synergy being able to offer a multitude of benefits from an array of ingredients within one shake. If you're looking for an intelligent formula that will help you maintain lean muscle mass, look no further than PhD All-In-One Protein.
Use this All-in-one protein from PhD after your workouts to replenish your body with the optimal nutrients for recovery and to maintain muscle mass. This product is useful throughout the various stages of your training and supplementation cycle however particularly useful during those phases when you want to maintain your muscle mass (rather than add large amounts of muscle) so useful during cutting or maintenance phases.
PhD Synergy All-In-One is most suitable for those at the very top of their game who wish to recover optimally following intense physical activity. The Synergy user isn't particularly looking to add mass, but looking to maintain a lean physique and maybe add a small amount of lean, quality muscle tissue.
Ingredients
PHD Nutrition Synergy All-In-One 2kg Vanilla
Directions
Use post workout after intense exercise. Aim to consume within 30 minutes after workout for optimal usage. Consume with water for a faster rate of absorption however you can also consume with milk. For best results, use 2 servings of Synergy daily. Use 1 serving within 30 minutes of completing intense exercise, followed by the 2nd serving at any other stage throughout the day.