Creatine Monohydrate - 1KG
Product Guide
The most widely studied performance enhancing ingredient of all
Wide choice of flavours and sizes to suit all tastes
Can be dosed at just 3g a day meaning one pack can last ages
Sustains high intensity performance of all kinds for longer
Typically delivers an extra 2 reps on a weight you could lift for 8 reps normally
Creatine Monohydrate is by far the most clinically proven form of creatine
Neutral taste makes this ideal for mixing with your protein shake
Expect results in a week, both strength enhancement and increased muscle cell volumisation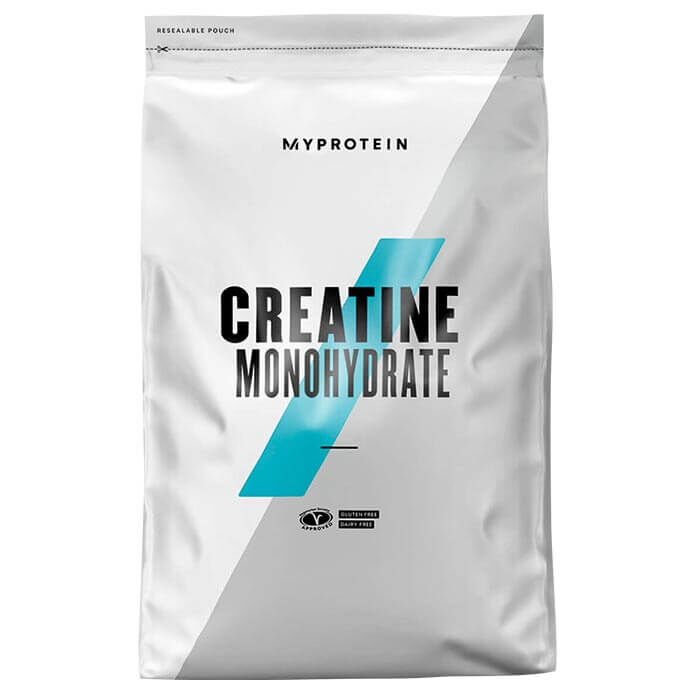 Myprotein Creatine Monohydrate delivers the most clinically researched ingredient out there for delivering rapid gains in performance, and increasing lean mass especially via cell volumisation, the process by which water is pulled into the muscle cell increasing its size and contributing to improved biomechanical leverage when lifting weights. With hundreds of studies showing Creatine Monohydrate works and works quickly, it is an ideal way to improve performance for all anaerobic sports.
Myprotein advise using their Creatine Monohydrate around exercise to take advantage of increased insulin sensitivity to maximise uptake into muscles of creatine. As a safe, natural supplement Creatine Monohydrate can be taken year-round if desired, indeed there is no reason at all why someone would not take a maintenance dose of 3-5g daily.
From a safety perspective Myprotein Creatine Monohydrate can be used by anyone of any sex but in certain specific scenarios such as when used by athletes who perform in weight classes it is advised to discontinue use a week before your event so that they can meet their target weight. During this time the cell volumisation effect will peter out but the strength gains will be maintained.
Ingredients
Myprotein Creatine Monohydrate - 1KG
Directions
Add 5g to water, shake and consume. Use 1-2 times daily preferably directly before and after exercise. After 8 weeks of continued use take 1 week off and start cycle again.
WARNING: Contains E129 which may have an adverse effect on activity and attention in children. Do not exceed the stated recommended daily dose. T