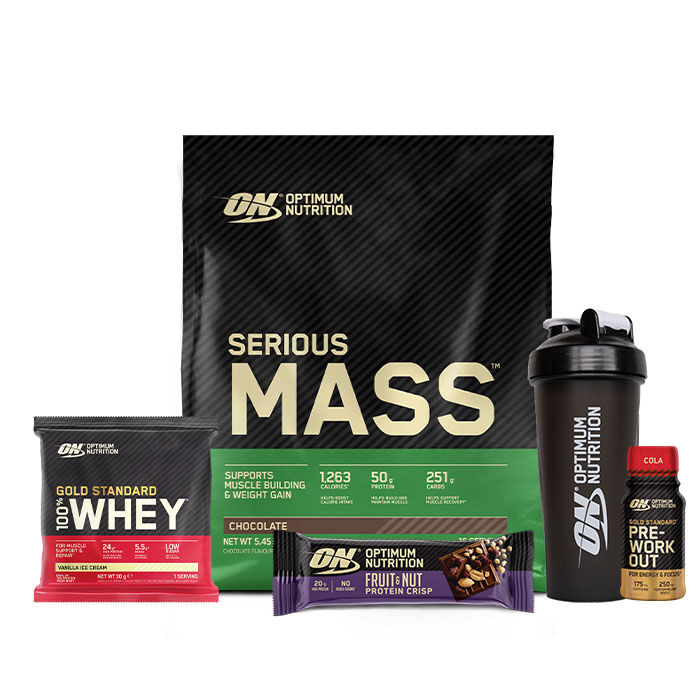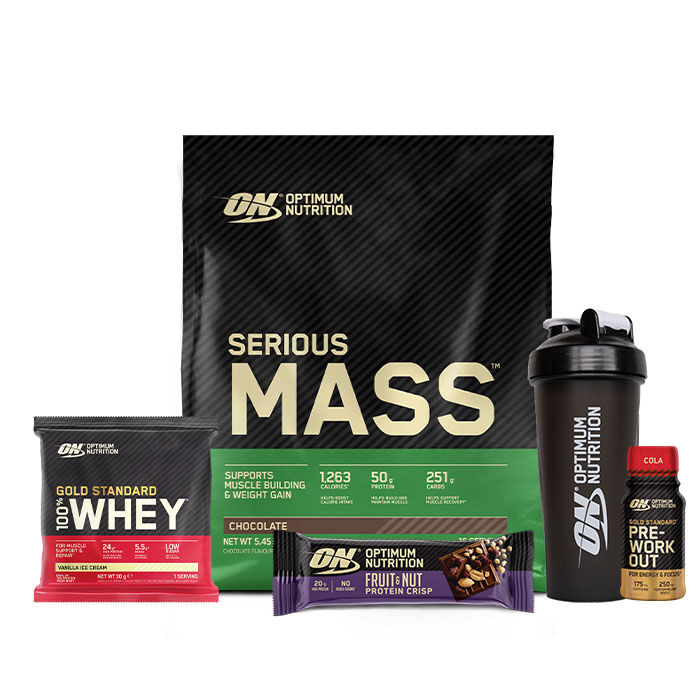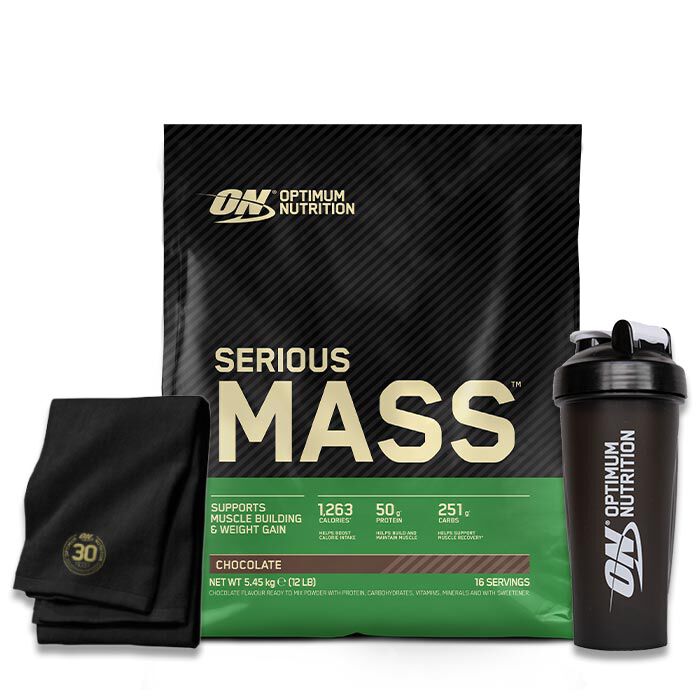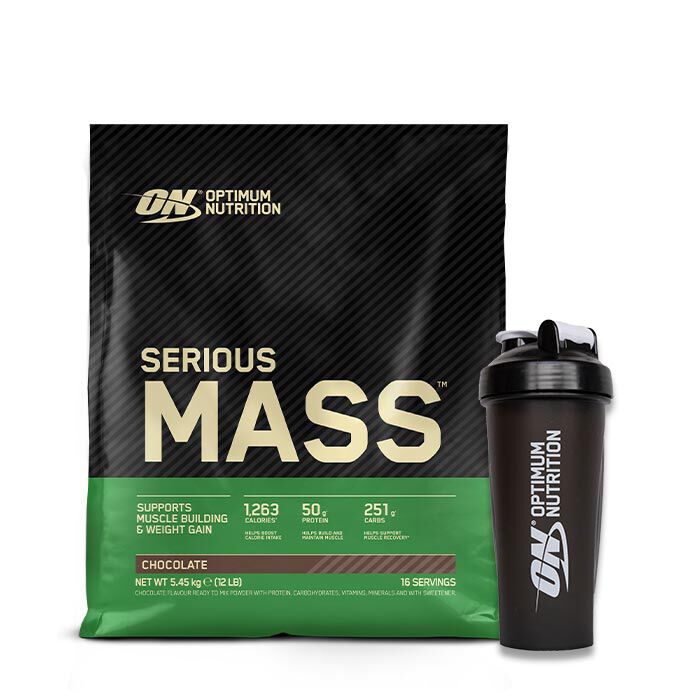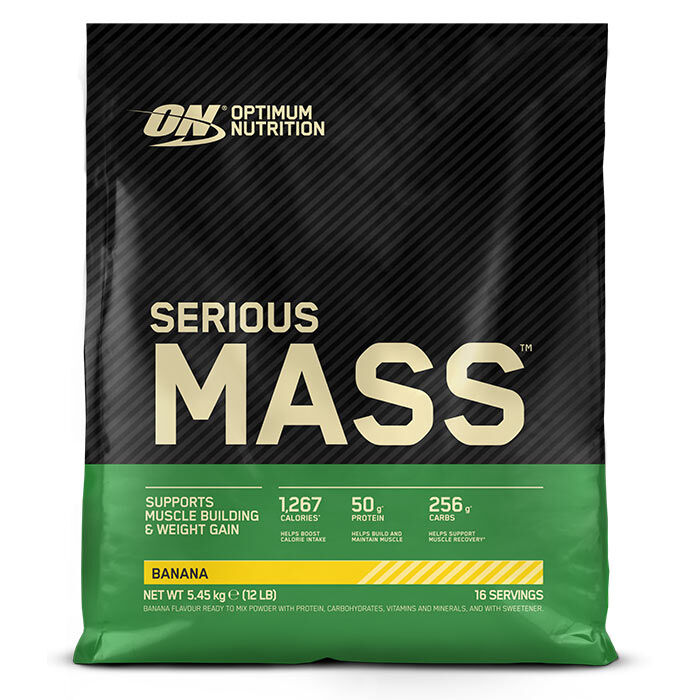 Serious Mass 12 lb - Chocolate Weight Gainers
Type
Weight Gainer: High Calorie
Offer
Free Gold Standard Whey sample, Shaker, Pre-workout shot, Fruit & Nut Bar
Offer
Pick 2 FREE items at checkout for every £100 spent to a max of 6 items in total
Offer
Pick 4 FREE items when you spend £200+
Offer
Pick 6 FREE items when you spend £300+
Serious Mass 12 lb - Chocolate
Product Guide
Over 1,200 calories in a serving
High carbohydrate formula is perfect for the chronically underweight
Protein blend ensures sustained delivery of protein throughout the day
Easy to digest formula means you can consume more calories through the day compared to a gainer featuring complex carbs
Can be used as a post-workout as well as every day use as a weight gainer
Creatine and glutamine enhance strength, endurance and recovery from exercise
Includes a vitamin and mineral blend to support general health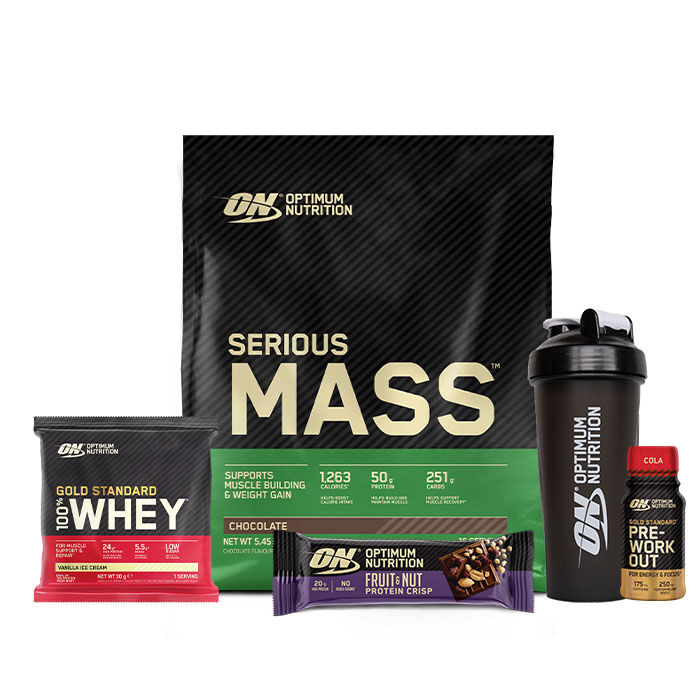 Serious Mass is a high calorie weight gainer which should be used only by someone seeking rapid weight gains. The high ratio of carbohydrates means that it supplies a lot of energy but that comes with the caveat that if you do not train frequently it will not be a good choice for you. On the other hand for people performing a lot of cardio or with superfast metabolisms, Serious Mass supplies calories in an easily digestible form to make weight gain easy.
Serious Mass protein powder should be reserved for phases where you are trying to gain weight quickly and are happy to accept a modicum of fat gain. Outside of bulking phases those who perform high amounts of cardiovascular activity (which depletes carbohydrates more than weight training) will find this a good post-workout choice.
Serious Mass is a gainer which should be used with caution if you are seeking lean mass gains as the overwhelming number of calories and carbs means that unless you are naturally very skinny you may end up gaining too much fat. On the other hand for the kind of person who claims they can never gain weight no matter how much they eat, Serious Mass protein shakes will be perfect.
Ingredients
Optimum Nutrition Serious Mass 12 lb - Chocolate
Directions
Take up to 3 servings of Serious Mass daily. Simply mix up 2 scoops with milk or water in your ON shaker and enjoy between meals, post-workout and/or before bed.