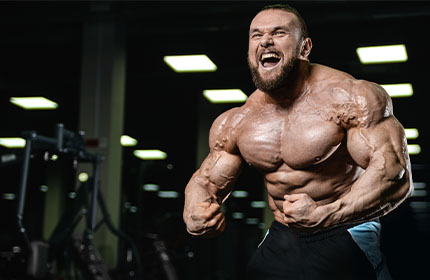 10 Best Mass Gainer & Weight Gainer Supplements 2022
10 Best Mass Gainer & Weight Gainer Supplements 2022
In a world obsessed with losing weight, some have the opposite goal: they want to build muscle, increase strength and support performance. These people are probably already working hard in the gym, eating plenty of protein and using at least a couple of sports supplements. But what about when you hit a wall and the size just isn't going on anymore? This is where weight gainers and mass gainers can come into play.
What are Weight Gainers and Mass Gainers?
Weight gainers and mass gainers are protein shakes with the intent of helping you gain mass at an accelerated rate. Typically, the protein and carb content of these protein powders will be high to make for an incredibly calorie dense drink. The protein is often a blend with the bulk from a whey concentrate, whereas the carbs might come from carbohydrate powders or wholefoods like oats or sweet potato. Generally speaking, a mass gaining shake will contain low to moderate fats to make for easier digestion and better uptake if used as a recovery shake post-workout.
Lean Mass Gainers - Muscle Gain with Less Calories
While the products below have various differences in their composition, they are all broadly similar in so far as they all are aimed primarily at supplying a lot of calories, principally from carbohydrates with a smaller focus on protein. However, there is also a class of weight gainer which takes a different approach, by keeping the calories a little lower, uppping the amount of protein with the best products of this class focusing instead on muscle building or performance enhancing ingredients such as creatine, beta-alanine and HMB.
Such a product is likely a better option for those wanting to add muscle mass or performance without also adding a lot of body fat from excessive calories. In particular, older people are likely better off using a lean mass gainer rather than a traditional high carb gainer. Examples of lean mass gainers include Hydrapharm Quantum which is loaded with performance enhancing and recovery boosting ingredients, or if you prefer a few more calories and slightly less muscle building ingredients, Scitec Jumbo Hardcore is a good fit.
Is there a difference between mass gainer and weight gainer products?
In many ways, a weight gainer and mass gainer are the same thing. Both are based on a high protein content (usually 30-50 grams of protein per serving), high carbs and low to moderate fats. Sometimes a weight gainer will be higher in calories to appeal to those who are struggling to gain any weight at all, whereas a mass gainer will be a little lower to grab the attention of someone who is looking for a leaner bulk and wants a dedicated shake to support this.
A weight gainer, or mass gainer, can play a huge role in a successful gaining phase. Of course, we'd always recommend getting the bulk of your calories from wholefoods, but for those with a high metabolism or low appetite, there comes a point where meals are no longer enjoyable and digestion and energy suffer as a result. At this point, we'd suggest switching to lower volume foods (for example, swap potatoes for bagels, fruit for jam, oats for granola) and implementing a high calorie shake once or twice a day.
These shakes aren't all created equal. One might contain as little as 300 calories per serving (such as Mass Jym), whereas other may contain upwards of 1000 calories! Before you haphazardly start chugging these shakes, work out your current calorie intake and estimate how many more calories you will need to get into a calorie surplus and achieve a suitable rate of gain.
It is also worth checking for additional ingredients which might save you some money elsewhere. If your chosen product contains 3-5g creatine monohydrate, it isn't necessarily worth you buying a separate tub of creatine. The same can be said for if at least 5g glutamine is contained.
We would not advise using a protein powder, whether it be a mass gainer or your typical whey concentrate, for more than 2 of your meals per day. If you had previously been using a couple of scoops of whey protein powder per day to help you meet your protein target, avoid adding a mass gainer on top! Variety of protein sources is key to maintain healthy digestion and expose yourself to different amino acid profiles. If you are consuming 6 meals a day, and 2 are whey, be sure include other complete proteins such as chicken, eggs, beef or salmon in your regular diet too. Protein is key for gaining lean muscle mass, so in men, 30-50g of protein per meal (depending on how much lean mass you have) if sufficient to spike muscle protein synthesis (MPS). You will notice that the mass gainers in this list tend to fall perfectly within this range per serving!
Side Effects of Mass Gainer Supplements
Thankfully, you don't have much to worry about when it comes to side effects from mass gainer shakes. The first thing that might occur is faster weight gain than expected. At this point, simply pull back calories by reducing portion sizes to slow the rate of gain to a more comfortable level.
The next thing to look out for is problems with digestion. This can happen because of poor quality sources of protein, GI issues with carbohydrate powders like dextrose or maltodextrin, or high amounts of artificial sweeteners. If you are prone to stomach issues, look for a shake that uses a high amount of whey protein isolate or even beef protein such as Carnivor Mass, and includes 'real food' sources of carbs such as oats or sweet potato.
What are the best weight gainers / mass gainers? Here are our top 10 picks
There are plenty of weight gainers available on the market right now, so many that it can be difficult to determine which is 'best'. We will here outline some of our best selling, highest rated and most recommended mass gainer shakes, including their strong points and who they are best suited to.
1. Optimum Nutrition Serious Mass
Serious Mass weight gainer by Optimum Nutrition is one of the most recognizable weight gainer products available and has become a longstanding favorite of many! With around 50g protein and 250g carbohydrate per shake, this can easily slot into your diet to replace what might've been a pretty heavy and time consuming to eat meal! If you are swapping out a whole meal for this, don't worry about micronutrient content, Optimum have packed this with added vitamins and minerals for your benefit!
Calories: 1260
Protein: 50-53g
Carbs: 251-252g
Other strengths: contains added vitamins and minerals
2. USN Muscle Fuel Anabolic
USN's legendary Muscle Fuel Anabolic bridges the gap between weight gainer and all-in-one, with added ergogenic ingredients that go beyond your regular weight gainer. Each serving contains your full clinical dose of 5g creatine to support strength and power output, plus other ingredients such as beta alanine and HMB for muscular endurance and prevent muscle breakdown. It is lower in carbs than your regular mass gainer and is the perfect choice if you want something to drink post-workout to best support recovery.
Calories: 560-580
Protein: 53-55g
Carbs: 77-79g
Other strengths: fully dosed in creatine
3. Predator Mass
Predator Mass is a relatively new product to our mass gainer range which is our very own Predator Nutrition best value choice, perfect for those looking to get results on a budget! Available in tasty chocolate truffle flavour, each serving comes in at just short of 400 calories with 50g carbs and 32g protein from whey protein concentrate and casein. The ingredients list here is simple and contains only what you need.
Calories: 393
Protein: 32g
Carbs: 50g
Other strengths: best value, good choice for lean gains, simple ingredients list
4. Muscletech Mass-Tech
Mass-Tech is an impressive formula packing a huge 10g of glutamine and creatine respectively, and highly dosed in branched chain amino acids. Muscletech have even included added digestive enzymes, with digestive function becoming paramount as we push food up high in a bulking phase, especially considering protein intake. The carbohydrates used in Mass-Tech make it a superior choice for quality with sources including oat bran, quinoa and buckwheat. If you are looking for a shake that doubles up as a meal replacement, this is a fantastic choice.
Calories: 840
Protein: 63g
Carbs: 131-132g
Other strengths: high dose of creatine, glutamine and amino acids including leucine with added digestive enzymes
5. BSN True-Mass
The BSN True Mass range, including True Mass 1200 and True Mass All-In-One Gainer, is another iconic name in the supplement world. The original formula is a well balanced shake containing a mixed release whey blend to keep your muscles supplied with amino acids for hours after drinking. Like BSN Syntha-6, you can expect great flavour and consistency from this just like a real milkshake.
Calories: 700-710
Protein: 52g
Carbs: 252g
Other strengths: BSN are known for great taste and texture in their protein powders
6. Dymatize Super Mass Gainer
Dymatize Iso 100 is a firm favorite for dieters, and their Super Mass Gainer is no different for those looking for the best mass gainer. With 1300 calories per serving, it would be near impossible to not gain quality muscle mass with this Dymatize shake on board! Gain weight and build muscle fast with all the tools you need to progress, including BCAAs, glutamine and the highest quality patented Creapure creatine.
Calories: 1280
Protein: 63g
Carbs: 131-132g
Other strengths: high quality whey isolate used, added vitamins and minerals
7. Gold Standard Gainer
The second Optimum Nutrition gainer shake on our list, Gold Standard Gainer is lower in calories per serving than serious mass with less powder per serve. GSG is without the added vitamins and enzymes contained in Serious Mass but it does include a higher quality of ingredient, with the main protein source used being the high purity whey isolate and carbs from quality sources including the patented Carb10 which is is a source of clean, sustained energy compared to something like maltodextrin which can cause peaks and dips in blood sugar level.
Calories: 760
Protein: 55g
Carbs: 112-119g
Other strengths: uses whey isolate and healthy wholefood carbs including flax and chia
8. Carnivor Mass
Carnivor Mass by MuscleMeds is unique in that it is our only dairy-free option in this list. The ultra high quality protein used comes from hydrolysed beef protein isolate. Like a whey isolate or hydrolysate, this has an incredibly high protein yield, for rapid digestion and zero stomach issues thanks to no lactose content. With very low fat and 0g sugar this is the perfect choice for anyone who wants to keep body composition in check while gaining quality size.
Calories: 710
Protein: 50g
Carbs: 125g
Other strengths: hydrolysed beef protein for a better digesting shake and free from sugar or lactose
9. Mass Jym
US bodybuilding brand JYM never fail to impress us with their products, from pre-workout to aminos, and their mass gainer 'Mass Jym' is no different. This is our best choice for lean muscle with a more moderate 1:1 ratio of carbs to protein and around 280 calories per serving, about the same macronutrients as a protein flapjack.
Calories: 280-300
Protein: 30g
Carbs: 31-34g
Other strengths: balanced 1:1 ratio of carbs to protein and lower calorie content for lean mass gains, high quality protein blend used
10. Mutant Mass
Where would a list of the best mass gainers be without mention of Mutant Mass? Once upon a time, this was the 'go to' for bodybuilders looking to pack on the size quick. In more recent years, the field has become more competitive and we are overwhelmed with choices, but the legacy of Mutant Mass lives on. Unlike other mass gainers, Mutant Mass is available in a smaller 2.27kg pouch, perfect if you don't want to have to part with a lot of cash in one go, and their flavours are more adventurous than other brands with offerings like Coconut Cream and Cookies & Cream.
Calories: 1100
Protein: 56g
Carbs: 192g
Other strengths: an old-school favorite, blend of 10 proteins used
Other Mass Gainer Supplements and Tips
Weight gainer shakes are a great way to support your muscle building goals, but even so, we can't expect them to do all the work! There are other things we can do to put ourselves in the best position to achieve muscle gains.
Supplements that stack with with a mass gaining shake include natural muscle building supplements, such as creatine (if 5g isn't already present in the shake), phosphatidic acid and epicatechin.
You also need to be training with sufficient intensity to illicit growth. Training should always be progressive, especially when eating in a calorie surplus to support performance. This means that over time you should be increasing weight on the bar, reps and/or sets, while maintaining accurate form. As we get stronger, we create a demand for more more muscle mass to move and recover from the heavier loads. This is what we call a 'progressive overload' model of training.
We also can't overlook sleep and recovery. Eating more food, lifting more weight, carrying more body mass, these can all increase recovery demand. Aim for 8 hours in bed per night and make sure you are taking plenty of time to look after your body outside of training sessions!
Conclusion
Mass and weight gainer supplements can be a great way to support muscle growth when struggling to get extra calories in through solid meals alone. Mass gainer supplements are not all created equal and it is always worth having a good read through the ingredients and nutritional information before you commit to one. Some mass gainers are more wholefood based with complex carbohydrates like oats, whereas others are higher in sugars. Calorie and grams of carbs also vary hugely, unlike something like a whey isolate where 100-120 calories per scoop is standard.