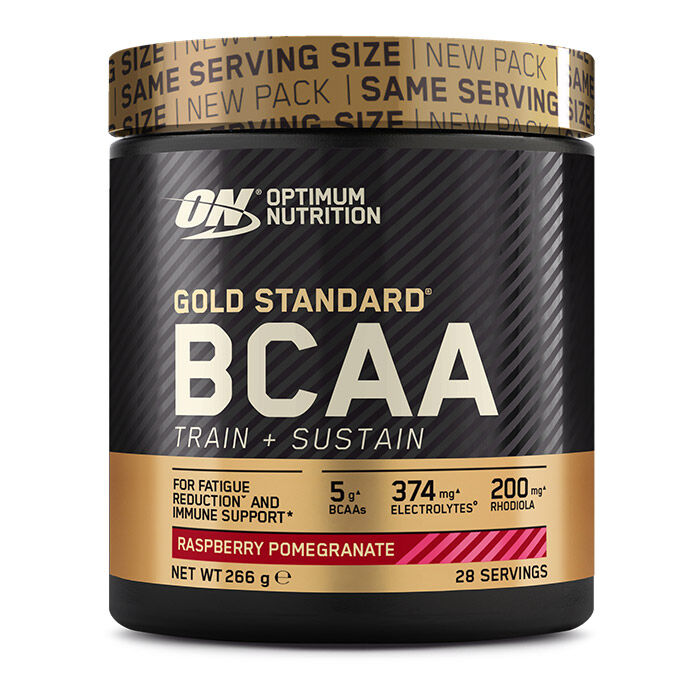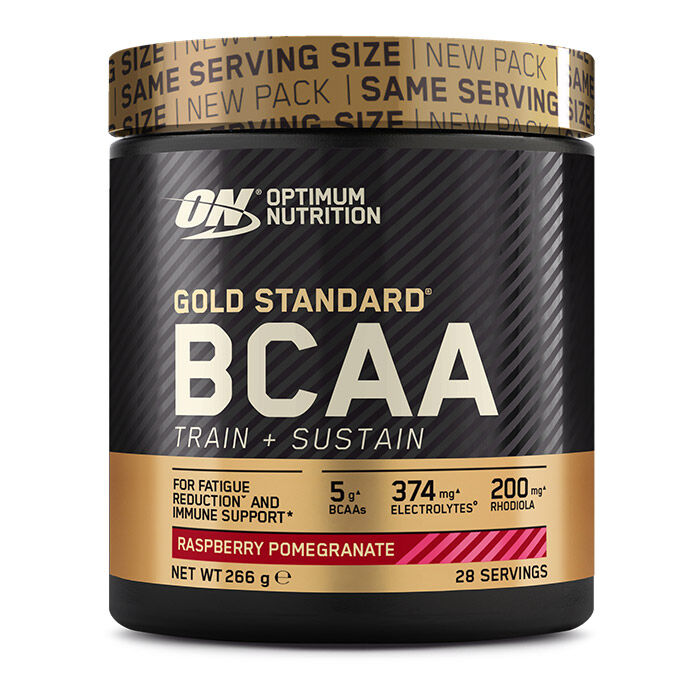 Gold Standard BCAA 28 Servings Raspberry and Pomegranate
Offer
Pick 2 FREE items at checkout for every £100 spent to a max of 6 items in total
Gold Standard BCAA 28 Servings Raspberry and Pomegranate
Product Guide
5g of BCAA's promote recovery and muscle repair
Vitamin C combats cortisol and enhances immunity
Contains Rhodiola Rosea to improve mood and adapt to stress
Combats fatigue while consumed during exercise sessions
Unique blend of electrolytes and Wellmune®
Mixes easily and makes for a light, refreshing drink any time of the day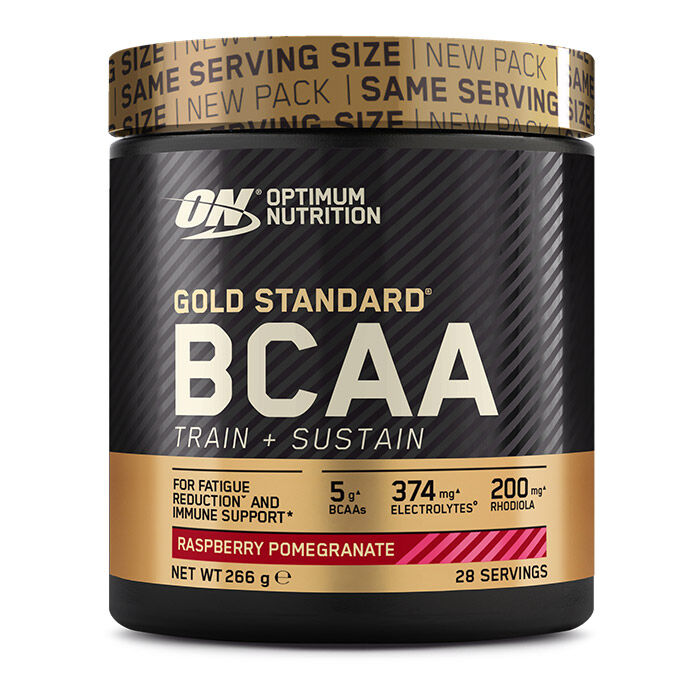 Gold Standard BCAA is a BCAA based recovery drink which provides exactly 5g of BCAA's, a dose which has been shown to maximise muscle protein synthesis and recovery. For hard training athletes wanting the fastest route to replenish muscle broken down during training Gold Standard BCAA is the answer as unlike proteins this is already in the ultimate form the body requires to replace muscle tissue lost during training. Gold Standard BCAA combines the BCAA's with supporting nutrients such as Vitamin C and Rhodiola Rosea which work to combat fatigue and improve mental acuity thereby enabling you to maintain performance at a high level right to the very end of your workout.
Gold Standard BCAA is perfect for use during a training session as it gets to work quickly and provides your body with a ready source of BCAA's which is vital as they get broken down very quickly whenever you train. In addition to using during training, Gold Standard BCAA can be drunk between meals to help elevate muscle protein synthesis. Indeed, a great deal of research has shown that consuming 5g of BCAA's has the same anabolic effect as a meal with 30g of protein and it is therefore a great idea to have a drink of this to maximise muscle growth between meals.
Banned substance tested, Gold Standard BCAA can be taken by anyone from an elite athlete to those seeking a refreshing pick-me up as the Rhodiola in this will improve focus without the need for stimulants.
Ingredients
Optimum Nutrition Gold Standard BCAA 28 Servings Raspberry and Pomegranate
Directions
Mix 1 scoop in 10-12 fl. oz. of cold water.