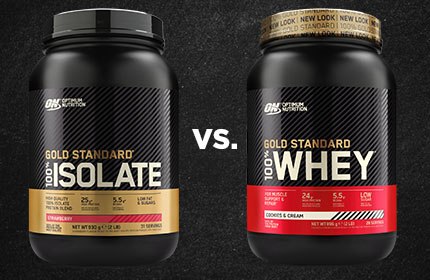 Optimum Nutrition Whey Isolate vs Gold Standard: What's best?
Optimum Nutrition Whey Isolate vs Gold Standard: What's best?
As you have probably already discovered if you are reading this article, not all whey proteins were created equal. Whey protein encompasses all protein powders that contain the 'whey' part of milk, after it has been separated from casein (another dairy-based protein supplement). Within the realm of whey proteins, there are several versions available. These include concentrate and isolate. Optimum Nutrition offer options for both under the names 'Gold Standard Whey' and 'Gold Standard Isolate'.
100% Whey Gold Standard vs Pure Whey Protein Isolate: which is the best whey?
Both Gold Standard Whey and Gold Standard Isolate are incredible products that can have their place in a muscle building or fat loss diet. Both being whey products, you can expect many of the same benefits including them being complete proteins. By this, we mean that all reputable whey protein powders contain the full spectrum of 9 essential amino acids, including the branched chain amino acids, or BCAAs (leucine, isoleucine and valine). In this regard, whey is superior to something like a pea protein which will need to be combined with another complimentary source of protein in the same meal to make it 'complete'. If your goal is to build maximum muscle mass, an awareness of the quality of the proteins you consume is a must!
Next, both have great mixability. You might have experienced protein powders in the past that remain lumpy and powdery no matter how hard you try to blend them - not Optimum Nutrition! You can guarantee that their wheys will easily mix with cold water into a perfect form. You can expect a slightly thicker shake with a concentrate, due to the small amount of fat.
Whey proteins are also versatile and easy to stack. If you are new to using supplements, a quality protein powder is probably one of the first things we'd advise picking up, for convenience if nothing else! Alongside your whey protein concentrate or isolate, you could use a number of other basic supplements from creatine to pre-workout to BCAAs.
So, what are the differences?
Optimum Nutrition Gold Standard Isolate vs Whey Protein ingredient comparison table
Both proteins contain impressive ingredients lists, boasting around 25 grams of protein respectively and being gluten-free. The whey isolate protein has 0 gram of fat and uses the highest quality whey, whereas the concentrate contains added digestive enzymes a little more gram of carbohydrates, though still coming in at less than 2g per serving.
| Per Serving | Gold Standard Whey | Gold Standard Isolate |
| --- | --- | --- |
| Calories | 120kcal | 100kcal |
| Protein | 24.6g | 25g |
| Carbohydrates | 2.3g | 1g |
| Of which sugars | 1.4g | 1g |
| Fat | 1.3g | 0g |
| Of which saturates | 0.7g | 0g |
*Nutrition Information may vary depending on flavour. Table based on Chocolate flavours.
ON Whey Isolate vs Gold Standard for flavour
Being the more widely popular and recognised product, Optimum do offer more flavours in Gold Standard Whey, including some fun ones such as Caramel Toffee Fudge and Chocolate & Hazelnut! In the Isolate, we see the more 'classic' flavours like Vanilla, Strawberry and Chocolate flavor. Whatever you go for, ON are known for doing a great job with their flavouring systems as we've seen in products like Amino Energy.
Both protein powders get their taste from sucralose as sweetener and flavourings (both natural and artificial flavors are used in gold standard 100% isolate). This is pretty typical for a whey product and, in our experience, results in a more authentic taste than protein powders that use something like stevia, a natural alternative that can leave a not
Our advice: looking for a quick shake? Go for isolate. Want something to flavour your oats? The fun flavours and thicker consistency of Gold Standard Whey will take them to a whole new level.
Gold Standard 100% Whey flavours
Double Rich Chocolate
Delicious Strawberry
Vanilla Ice Cream
Banana Cream
Rocky Road
Chocolate Mint
Chocolate Peanut Butter
Cookies & Cream
Extreme Milk Chocolate
White Chocolate Raspberry
Chocolate & Hazelnut
Unflavoured
Caramel Toffee Fudge
French Vanilla
Cinnamon Bun
White Chocolate
Gold Standard 100% Isolate flavours
Chocolate
Rich Vanilla
Strawberry
Other differences between Optimum Nutrition Whey and Isolate
1. Protein Content
One of the key differences between a whey concentrate and isolate is that the protein yield is higher in and isolate due to the processes used to prepare it. A typical whey concentrate will be made up of 80% protein, with the remaining calories from carbs and fat, whereas an isolate has undergone further processing to produce at least 90% yield of ultra-pure protein. For those on a very low carb diet, choosing an isolate can save a few of those precious macros to use elsewhere.
For something even 'cleaner', Optimum Nutrition Platinum Hydro Whey breaks whey isolate down further for ultra fast absorption and the purest protein supplement you can buy.
2. Digestion
Another benefit of whey protein isolate over concentrate is that is is more readily digested due to containing 0g fat, 1g of carbohydrates and being lactose free. If you had been considering a vegan protein powder because concentrates do not sit well with you, the solution might lie in opting for a whey isolate - it is also worth noting that you probably won't find a vegan protein with such impressive macros!
The fast digesting nature of isolate makes it the optimal choice around workouts when you want a quick supply of amino acids delivering to the muscles with as little digestive distress as possible. Add to ground rice or simply mix with a carb powder like highly branched cyclic dextrin for a perfect post-workout recovery meal!
At other times of the day, such as before bed, a slower releasing protein like a concentrate, casein or blend might be preferable to give a slower release of those valuable aminos, including the 3 BCAAs, through hours in what is essentially a fasted state.
3. Cost
Assuming that you don't mind a couple of grams of carbs and fats in your protein, and you've never had any GI issues with dairy, a huge positive of opting for a concentrate is the fact that they come at a lower cost per serving.
If you are just entering into the world of protein supplements, it is wise to start out with an affordable whey concentrate to first see how you like the supplement and how you get on. This means that you can experiment with different flavours and ways of serving up your whey (no pun intended) to find the perfect powder for you.
With Optimum Nutrition, you can trust that supplements are of a high quality no matter what. The brand have been leading the sports nutrition industry for many years, and you can trust that they are producing some of the best protein powders you can buy.
Optimum Nutrition Whey Protein Isolate vs Gold Standard Whey: Conclusion
Ultimately, both whey protein isolate and concentrate have value in helping you reach your daily protein targets and being a source of amino acids including BCAAs and glutamine. Incorporating a protein shake into your diet is a great way to stay satiated, save money on more expensive sources of protein such as lean meat and fish, and spike muscle protein synthesis for greater gains in lean muscle and recovery.
Whey isolate might be the better choice if looking for something fast digesting, if unable to consume high amounts of lactose or if on a diet with very limited total fats and carbohydrates.
Whey concentrate could be the better option if looking for a more 'milkshake' like taste and consistency and to be more cost effective.